Bali vs Fiji: Comparing Two of the World's Most Romantic Honeymoon Destinations
If you're asking yourself, "Bali vs Fiji: which is the better honeymoon destination?" or "Bali vs Fiji: which place is cheaper?" you've come to the right place. 
When comparing Bali vs Fiji as honeymoon destinations, you might find yourself overwhelmed. There are seemingly endless options for resorts, places to visit, activities to enjoy and food to sample. Both Bali and Fiji feature white sand beaches, tropical weather, distinct cultures and endless sunshine. However, each place brings its own beauty and adventures. 
Using local knowledge and personal experience, we've compiled this guide to help you pick the best honeymoon destination (or couple's holiday) for you and your love.
Bali vs Fiji: 2 Dream-worthy honeymoon Destinations
Bali: "The Island Of The Gods"
Located in the Indonesian archipelago, Bali is a large island, featuring volcanic mountains, lush valleys, black sand beaches, rugged coasts and bustling cities. Even though Bali is only one island (technically there are 3 other small islands in the same province), it is 153 kilometers across and a place of endless possibilities. 
The predominant religion is Balinese Hinduism, which can be seen in every aspect of life: daily flower offerings, vibrant religious ceremonies and thousands of ornate temples. 
Although some people come to Bali to party, "the Island of the Gods" is one of the most sought after honeymoon destinations in the world for reasons you'll soon discover.
Bali vs Fiji: Things We Love About Bali
There is a variety of high quality food choices – local Balinese, Javanese, lots of vegetarian and vegan options, gastro pubs, Australian barbeque, sandwiches, Mexican and the list goes on. 
The culture is immersive and visually stunning.
A night in a treehouse will make your childhood dreams come true. 
The terrain is varied – black sand beaches, volcanos, rocky cliffs, misty mountains, white sand stretches, grassy plains, fertile valleys, mangroves and lakes.  
The shopping is worldclass. 
When you get out of the touristy areas, the local people are genuinely friendly and will show you the "real" Bali if you are respectful and openminded.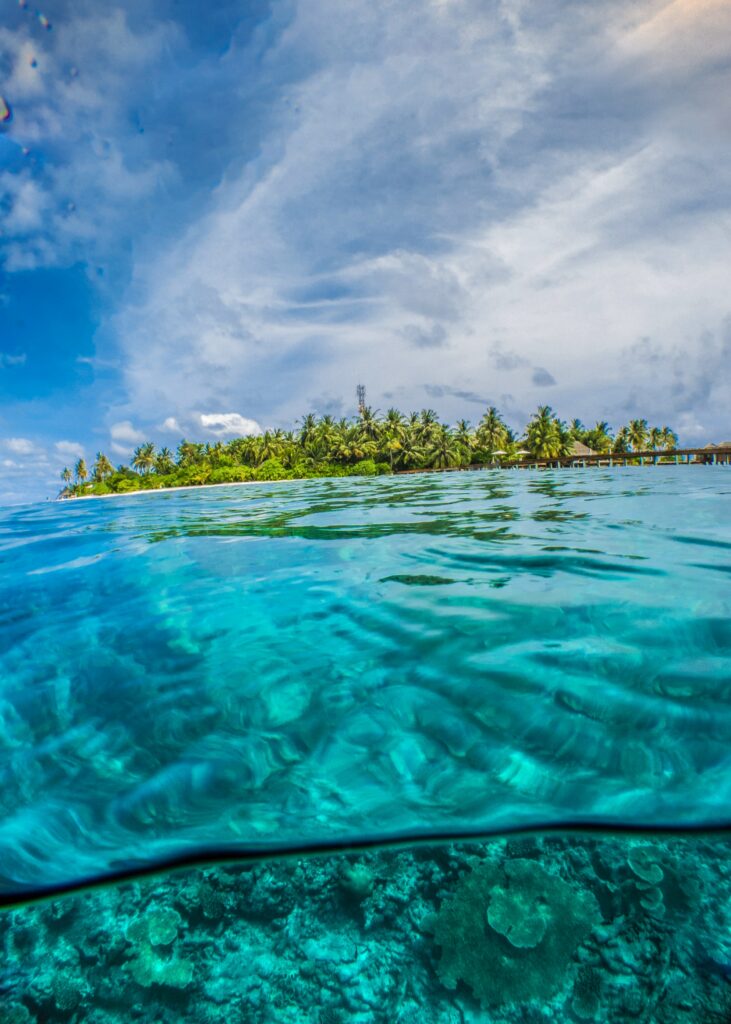 Fiji: "The Soft Coral Capital Of The World"
Fiji is an island national located in the South Pacific that is best known for its picturesque beaches with calm waters and vibrant underwater world. Scuba diving couples can see incredible diversity and healthy ecosystems filled with both soft and hard corals, nurse sharks, manta rays, hammerheads and barracudas.
While Bali has many desirable, non-beach attractions and accommodations, Fiji is predominantly a beach and ocean destination. Infinity pools, hammocks over the water and a wide range of water sports await. 
Although Fiji is an excellent family holiday destination (think kids club and kid-friendly tours), it is also a wonderful place for a honeymoon. There are many adults-only, private island resorts and hotels that offer facilities or restaurants for guests aged 16 and above. 
Bali vs Fiji: Things We Love About Fiji
The overwater villas are amazing for your honeymoon. 
Most of the beaches are safe for swimming with low wave action. 
You can literally relax in a hammock hanging over aquamarine waters and you will constantly see views that look like a postcard.
Local Fijian people are welcoming to visitors and deeply proud of their culture. They are also some of the happiest people in the world and the joy is contagious. 
There are over 330 islands each with its own distinct beauty. If you are seeking white sand beaches like you've seen in travel magazines, go to one of the small, private resort islands. 
The soft corals are some of the most beautiful in the world and the visibility is normally excellent. 
Fiji vs Bali: The Best Things To Do In Bali
Soak in a Flower Bath – After a Balinese massage and a traditional boreh scrub, indulge in a luxurious bath filled with fragrant frangipani and other tropical flowers. Our serene Ananda Spa offers a variety of spa services, including Hot Volcanic Stone Massage, a candlelit Herbal Bath and Four Hands Massage (cost: from 540 IDR). 
Watch Sunrise from Mt. Batur – Take in 360-degree views of Bali, Java and the ocean from the top of a volcano. Once you reach the caldera's edge, you can eat breakfast as the sun rises, but watch out for the naughty monkeys!
Shop, Shop, Shop – The shopping in Bali is truly next level. Jalan Raya Tegallalang (Tegallalang Road) is a major shopping destination for local products, including wood carvings, furniture, macrame wall hangings, figurines and other home décor. Canggu, Ubud, Seminyak, Sanur and Uluwatu are great places to shop for clothes, accessories and skin care products from local Bali brands. For a curated sampling of sustainable Bali products, visit our boutique, The Gallery. We offer locally-produced resort wear, artisan jewelry, sarongs and swimwear. 
Head to the Beach – What is the best beach in Bali? Such a difficult question, but here are our favorite beaches. The best "paradise" beach is Virgin Beach (Karangasem). The best beach for swimming is Bingin Beach (Uluwatu) in between hightide and low tide. The best sunset beach is Echo Beach (Canggu) – sit back on a bean bag and relax with a Bintang or smoothie. The best beach for snorkeling is the Blue Lagoon (Karangasem). Atuh Beach (Nusa Penida), Dream Beach (Uluwatu) and Balangan Beach are also beautiful. Always make sure to check for currents before entering the water, and remember that conditions can change rapidly. 
Discover a Secret Waterfall in Sidemen – Take a short hike into the jungle where you will discover Gembleng Waterfall. A series of cascades empty into natural pools, where you can soak with views of the lush Sidemen Valley. 
Visit Sacred Temples – Temple life is a huge part of Balinese culture and visitors are lucky enough to be able to visit these beautiful places. Flower offerings and incense add a soft perfume to the air as you walk beneath ancient archways or bathe in holy waters. 
Spend the Night in a Treehouse – Satisfy your inner child and stay in a jungle treehouse with soaking tubs, swings, incredible views and private plunge pools. We recommend booking only one night because even the most luxurious treehouse can feel a little uncomfortable.  
Trek through the Rice Fields – The Sidemen countryside is an untouched area of Bali with incomparable beauty. Think endless fields of rice covering rolling hills, dotted with small huts and rising temples. The Jatiluwih Rice Terrace (Penebel) and Campuhan Ridge Walk (Ubud) are also beautiful.
Eat Grilled Seafood on the Beach – Imagine sitting with your toes in the sand, watching the sunset, as the chef grills the day's catch. 
Bali vs Fiji: The Best Things To Do In Fiji
Go Island Hopping – With over 300 islands to explore, island hopping by private boat or in a group tour is one of the most popular activities. You can even enjoy a picnic or candlelit dinner on a private island. 
Experience Horseback Riding at Low Tide – Whether you're staying on the Coral Coast or at a secluded resort in the Yasawas, you can check horseback riding at sunset off of your travel bucket list. 
Hike the Lavena Coastal Walk – This 10km trail on Taveuni Island takes you from Lavena village, along beautiful beaches, through the dense rainforest to the breathtaking Wainibau Falls. At the end of the hike, you can cool off in the inviting waters of a swimming hole surrounded by lush ferns. 
Stay at an Eco-resort – Although there are plenty of options, Jean Michel Cousteau Resort is the premier eco-resort in Fiji. Offering 25 bures (traditional houses) designed with luxury and relaxation in mind, this resort has worldclass spa facilities, gourmet Fijian dining and "lifestyle-enriching" experiences. 
Stay in an Overwater Bungalow – Although Maldives and Bora Bora are known for overwater bungalows, Fiji has a variety of stunning overwater resorts on private islands. 
Go River Rafting – Head to the highlands of Viti Levu and take a wild ride down the upper Navua River. You will see cascading waterfalls, gorges cut through the land and imposing, black volcanic walls. Some of the rapids can be intense, but if you follow the directions of your guide, you will be fine.
Participate in a Kava Ceremony – Traditionally served as a way to welcome guests, Kava is the national drink of Fiji and it is a true honor to participate in this ceremony. Kava is a mild narcotic so you may feel a tingling on your tongue when you consume it. 
Go Snorkeling or Scuba Diving – The marine life in Fiji is simply stunning. The nutrient rich waters support vibrant coral reefs, manta rays, tiger sharks, nurse sharks, humpback whales and sea turtles. The best place for scuba diving is Namena Marine Reserve, which is the biggest no-take reserve in Fiji. 
Bali vs Fiji: Where Are The Best Places to Stay in Bali?
Sidemen – For couples seeking postcard perfect views of rice fields dotted with temples and bisected by rushing streams, Sidemen is an ideal location. Nestled between the ocean and the impressive mountains leading to Mt. Agung, the lush Sidemen countryside is a place to experience village life at its most authentic and Bali's scenic landscape.
At Samanvaya, we offer a honeymoon package that includes airport pickup, our Romance in the Valley spa package, 30-minute reflexology massages, a private 3-course dinner served by your personal butler, guided trekking and floral decorations in your room (price: 6,500,000 IDR).
Uluwatu – Situated on the Bukit Peninsula, Uluwatu is a world-famous surfing destination and home to some of the most beautiful beaches in Bali. You can spend an afternoon sipping on a coconut, while you watch surfers catch waves. Alternatively, you can sunbath on Bingin Beach, café hop or relax in a beachside bungalow. Ulu Cliffhouse, a contemporary beach club situated on the cliffs with spectacular sea views, is the perfect destination for couples seeking a relaxing day out.
Nusa Penida – Located off the coast of Bali, Nusa Penida is a place of adventure and breathtaking beauty. Although relatively undeveloped, this island boasts dramatic coastlines, incredible diving and underground temples. Whether you rent a motorbike or book a driver, you can visit treehouses, bathe in waterfalls cascading into the ocean or simply enjoy the views. Autentik Nusa Penida is an intimate, adults-only glamping resort, featuring 8 airconditioned safari tents surrounded by nature.
Seminyak – If you are seeking chic beach clubs, world-class dining options, shopping and a few nights on the town, add Seminyak to your Bali bucket list. Enjoy a slow breakfast at Kim Soo, a design café-boutique featuring local artisans, then head to Mano Bali, a shabby-chic beach club that embodies Bali's slow life. As the sun goes down, settle into a bean bag on the beach and watch the sky turn the most vivid shades of tangerine and sorbet pink.
Ubud – Known as the cultural capital of Bali, Ubud is hidden among the rice fields and waterways in Bali's interior. Hindu temples, the Sacred Monkey Forest, the Ubud Royal Palace and a bustling shopping district will keep you busy during the day. However, Ubud is also a wellness destination with yoga classes, vegetarian restaurants and meditation retreats. At night, enjoy dinner at one of the many restaurants and then retreat to the sanctuary of your jungle villa. Ubud is also an excellent jumping off point for visiting the Tegallalang Rice Terraces, the famous Bali swings and a number of waterfalls.
Gili Meno – Although technically part of Lombok, Gili Meno is only a short ferry trip away from Bali. The smallest of the 3 Gili islands, Gili Meno is quiet, secluded and often referred to as "the honeymoon island". Visitors can walk around the entire island in less than 2 hours, snorkel, relax in hammocks on the beach or simply enjoy the sunset. Meno House offers adults-only honeymoon accommodations as well as horse rides on the beach, excellent snorkeling and 5-star comfort.
Bali vs Fiji: Where Are The Best Places To Stay In Fiji?
The Coral Coast – Located on Viti Levu, the largest island in Fiji, this stunning stretch of coastline is home to many resorts that cater to a variety of budgets. If you don't have a lot of time in Fiji, this is a good place to stay because it isn't too far from the main international airport. Guests can enjoy activities such as diving in the Beqa Lagoon, hiking the trails at Sigatoka Sand Dunes National Park and lounging on the famed white sands of Natadola Beach. Visitors can also take a winding path through tropical scenery to Biausevu Waterfall or visit authentic Fijian villages.
Tambua Sands Beach Resort is an adults-only resort (one of the few in the area) and offers a honeymoon suite with a private, plunge pool set among palm trees. 
Taveuni – Known as "the Garden Island", Taveuni is covered in untouched rainforest and surrounded by healthy coral reefs. This is a dream destination for couples who love the outdoors. Activities include hiking into the rainforest, exploring the coastline, diving in the Somosomo Strait, kayaking in the mangroves and shopping for pearls. 
The Yasawas – If we could only visit one place in Fiji, this would be it. Made up of 20 islands, this archipelago is a great option for couples who want to experience Fiji at its most authentic, while enjoying 5-star accommodations and stunning natural beauty. Think powdery white sand, turquoise waters and secluded sunset beaches. Honeymooners can choose from a variety of adults-only resorts, swim with manta rays, watch sunrise from Mt. Tamasua, snorkel around untouched coral reefs or have a picnic on a private beach. 
The Mamanuca Islands – Considered one of the most beautiful places in the South Pacific, the Mamanuca Islands feel like the quintessential island paradise. Couples can relax on white sand beaches, snorkel in the clear waters and stay in beachfront bungalows. Matamanoa Island Resort is an adults-only resort located on a private island. Guests can soak in the infinity pool or relax by the plunge pool in thatched roof, beachfront bungalows. 
Nadi – Home to the international airport on the island of Viti Levu, Nadi is a jumping off point for couples traveling by seaplane or boat to neighboring islands. It's not a "likable" city, but if you are here, we recommend getting out of the urban area. There are plenty of things to do within a 1 hour radius, including soaking in Sabeto Hot Spring and Mud Pool or visiting Natadola Beach. This white sand beach is only 1 hour from Nadi and considered one of the most lovely in Fiji. Don't forget to visit the stunning Sri Siva Subramaniya Swami Temple!
A Private Island Resort – Many of the best honeymoon resorts in Fiji are secluded on private islands that take care of your every need. These carefully curated resorts come at a high price, but they are worth it if you can afford it. In this case, it is better to choose a resort you love instead of an island you want to visit. 
Toberua Island Resort – Situated in the Lomaiviti Group, this intimate resort feels more relaxed that some of the larger resorts and the price is mid-range. The natural beauty of Toberua is unbeatable and the resort only has 16 traditional bures. 
Fiji vs Bali: How Is The Food In Bali?
Balinese food is predominantly rice-based with sambals (spicy concoctions similar to a salsa or slaw), curried meats, sautéed vegetables and fish on the side. Seafood and seasonal fruits are also diet staples. However, Bali is home to restaurants with cuisines from around the world, ranging from 5-star dining to street food sold off a motorbike. 
These are some Balinese dishes you must try:
Nasi campur – This humble yet mouthwateringly delicious dish is the quintessential Balinese meal. It includes a scoop of rice topped with fried chicken, sautéed greens, boiled egg, curried meats and variety of delicious sambals. 
Sate lilit – It is made from minced chicken or fish mixed with spices, and then grilled on a stalk of lemongrass. 
Barbequed pork rib
Grilled seafood – Depending on the season, fishermen reel in different catches. Tuna, giant trevally, barracuda, squid and clams are a few favorites. 
Although some Balinese dishes have a few chilis, they're not as spicy as the cuisine from Thailand or other places in Indonesia. 
Bali vs Fiji: How Is The Food In Fiji?
Fijian food includes a lot of starches, such as rice, casava and taro as well as fresh seafood, curry spices and seasonal vegetables. While Fijians and Balinese people grill food over a fire, the Balinese usually use a smaller grill and coconut husks for fuel. Also, many noteworthy Fijian dishes are cooked underground, while this is not as popular in Bali. 
These are some Fijian dishes you must try: 
Kokoda – Similar to ceviche, Kokoda is the national dish of Fiji and contains raw fish in a citrus juice and coconut milk marinade. 
Grilled seafood – Just like in Bali, the seafood in Fiji is incredible. Tuna, mahi mahi, crab, lobster and sea urchin are popular menu items. 
Lovo – Meats, fish and spiced items wrapped in taro leaves are placed in a hole underground, covered in banana leaves with a layer of soil on top and allowed to slow cook for hours. 
Fish Suruwa – This flavorful fish curry is often served at weddings and special occasions. It is usually quite spicy so be careful with the first bite!
Bali vs Fiji: How Is The Transportation?
Transportation is cheaper in Bali for 2 major reasons. Number 1: you don't need to travel as far in Bali to visit the best attractions. Comparatively, many of the honeymoon destinations in Fiji are located a ferry, speedboat or plane ride apart. Number 2: private drivers are cheaper in Bali than in Fiji.
While you can rent a motorbike in both places, we recommend applying for your international driving permit well in advance to comply with local laws.
Bali vs Fiji: How Do The Costs Compare?
Although both places are stunning, Bali is a cheaper honeymoon destination. In Bali, there is a greater variety of resorts and guesthouses to fit every budget. Specifically, there are many honeymoon-worthy resorts with rates most visitors from Western countries would consider inexpensive. 
Local food, café bites and seafood restaurants are also cheaper in Bali. Tasting menus at fine dining establishments are also significantly cheaper with exceptional quality. Apéritif Restaurant, located in Vice Roy Ubud, offers several set menus with prices starts at 850++ IDR. 
Activities such as full day snorkeling trips, half day waterfall tours, river rafting and spa days are also less expensive in Bali. 
Bali vs Fiji: The Weather
Bali vs Fiji: when is the best time to visit Bali? Like any tropical destination, Bali has a dry season and a rainy season. June and September are the best times to visit the island for 2 reasons. Reason 1: the temperatures and humidity are lower outside of rainy season. Reason 2: the weather is sunny, but the crowds of high season haven't arrived yet.
Bali vs Fiji: when is the best time to visit Fiji? The high season between July and September brings amazing weather and incredibly high prices. A better option is to visit Fiji during the shoulder season: either May and June or October. Prices are lower and the weather is still lovely, but you might experience an occasional shower. 
Bali vs Fiji: Let's Wrap it Up! 
If you are looking for a quiet destination where you can spend your honeymoon relaxing on pristine beaches or only want to stay at one resort, then Fiji is the destination for you. Fiji is also a good choice for couples who have more than two weeks of honeymoon and can visit multiple islands.
However, if you're looking for more options in general (food, activities and accommodation), adventure and lower prices, Bali is the best choice. Take a look at our 2 week Indonesia itinerary for inspiration and planning. 
We look forward to welcoming you to beautiful Bali and showing you a piece of "the Island of the Gods". Please don't hesitate to reach out with any questions about our accommodations, wellness offerings and dining. 
See you soon!