Samanvaya Luxury Resort & Spa is set amongst the stunning panoramic rice terraces of the Sidemen valley.
Immerse yourself in the allure of our 17 rooms, each more stunning than the last. Our traditional yet connected design welcomes guests aged 14 and above, fostering an atmosphere of relaxation and tranquility. Enjoy the luxury of two infinity swimming pools suspended over the rice terraces, a natural temperature jacuzzi, hot tub, restaurant, spa, and yoga studio. Experience a world where beauty meets relaxation at its finest. Our luxury hotel also boasts a Lounge Bar and Garden Bar for delightful drinks and gatherings. Enhance your well-being at our wellness center, and celebrate special occasions at our versatile event space and dining area. Discover a truly memorable escape with resort amenities that cater to your every need.
Indulge in a plethora of luxurious amenities at Samanvaya Resort. Our two infinity swimming pools, suspended gracefully over the rice terraces, offer a mesmerizing oasis. Unwind in our natural temperature jacuzzi or enjoy a refreshing drink at our lounge bar or garden bar. Delight your taste buds at our restaurant, rejuvenate your body and mind at our spa. For special occasions, we offer various event and dining spaces.
Experience the charm of our 12 separate air-conditioned Villas and Lumbung's, along with our 5 private pool or hot tub villas. These exquisite accommodations were crafted by local craftsmen, utilizing reclaimed timbers and sustainable hardwoods. Some feature traditional Alang Alang straw roofs, blending seamlessly into the surrounding gardens and rice terraces. Each room is equipped with air-conditioning and boasts premium quality mattresses and linens, ensuring a perfect night's sleep.
All rooms come with daily breakfast for two, complimentary afternoon tea, turn down services and daily housekeeping. Our front desk is available 24 hours a day for your convenience and a business center with high speed internet that can be booked for your use..
Please note that Samanvaya is an exclusive Adults-Only retreat, welcoming guests aged 14 years and above. As our resort is nestled among the rice terraces, it may not be suitable for guests with mobility issues.
Discover the charm of our four poolside superior Villas, offering stunning views of the swimming pool and rice fields. Each villa has a terrace that opens to our hotel pool and gardens, creating a relaxing space and seamless connection with nature. Enjoy air conditioning, a premium queen-size bed, fully stocked mini-bar, tea and coffee making facilities, a safe, and complimentary toiletries. The attached semi-open tropical bathroom features a rainwater shower, toilet, and washbasin. Experience ultimate comfort and breathtaking surroundings in our superior Villa at Samanvaya Luxury Resort. Priced from IDR 2,850,000 for two persons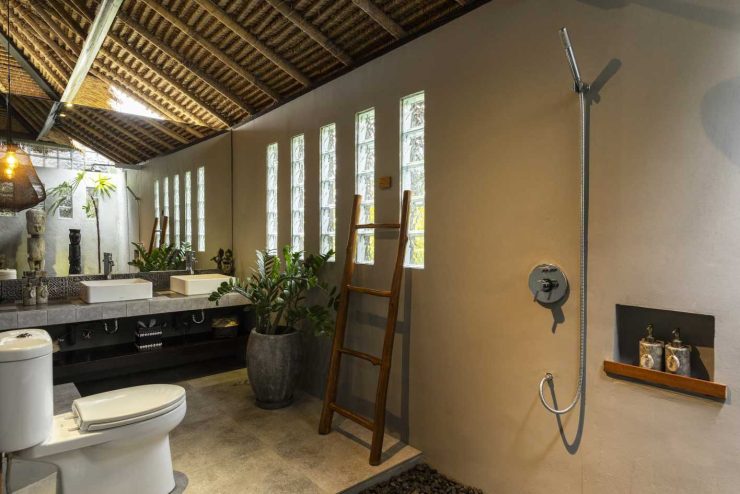 Experience the allure of our two Kayu garden view Luxury Villas, inspired by the enchanting ambiance of African Lodges. These villas offer a seamless blend of luxury and privacy, with tranquil spaces to immerse yourself in the surrounding gardens and Koi fish ponds. Enjoy air conditioning, a fully stocked mini bar, tea and coffee making facilities, a safe, complimentary toiletries, and a semi-open tropical bathroom with a rainwater shower and double wash basins. Indulge in the epitome of comfort and serenity in our Kayu Luxury Villas. Priced from IDR 3,525,000 for two persons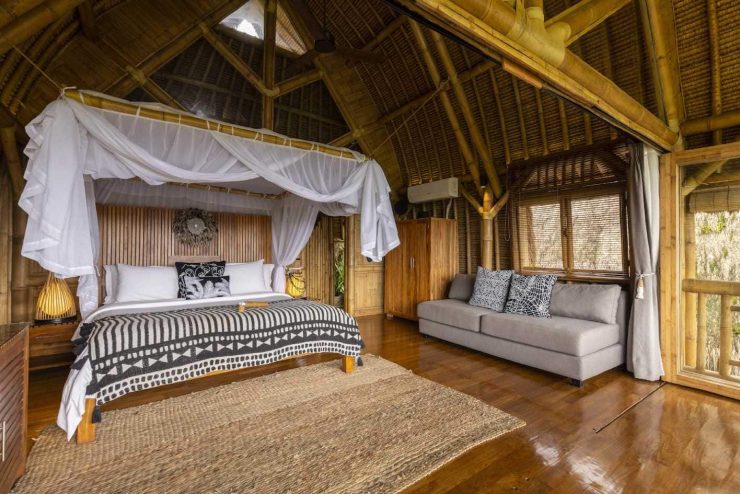 Experience nature's embrace in our deluxe lumbung's, nestled among lush gardens and tranquil ponds. These bamboo and alang-alang retreats offer stunning views of rice terraces and hills. Enjoy air conditioning, a fully stocked mini bar, tea/coffee facilities, a safe, and complimentary toiletries. Unwind in the semi-open tropical bathroom with a refreshing rain shower. Connect with nature on your private terrace, immersing yourself in the serene atmosphere.
Priced from IDR 3,525,000 for two persons
Kenyeri Villa - Executive
Escape to our spacious villa designed for couples seeking a romantic getaway. Enjoy panoramic views of Koi fish ponds, rice terraces, and the countryside. Relax on the private terrace and indulge in the luxurious bathtub. Features include air conditioning, fully stocked mini bar, tea/coffee facilities, safe, and complimentary toiletries. The semi-open tropical bathroom boasts a deep and lavish bath with a refreshing rain shower. Perfect for couples in search of ultimate relaxation and romance. Priced from IDR 4,050,000 for two persons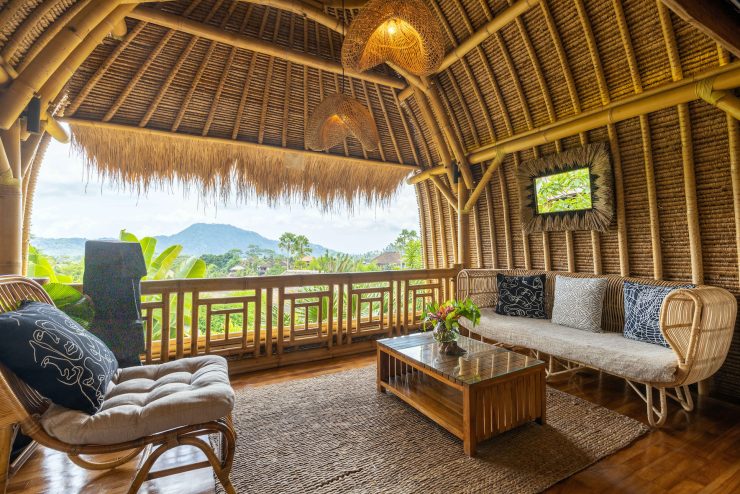 Experience the ultimate retreat for couples in our luxury multi-level lumbung style villas. Enjoy spaciousness, privacy, and stunning views of rice fields and mountains. Each villa features separate living and dining areas, a breathtaking semi-open tropical bathroom on the lower floor with a deep luxurious stone bathtub and rain shower, all set in a private tranquil garden. Indulge in air conditioning, a fully stocked mini bar, tea/coffee facilities, a safe, and complimentary toiletries. Immerse yourself in pure relaxation and romance in our lumbung style villas at Sidemn Bali accommodation. Priced from IDR 4,050,000 for two persons
Moana 2 bedroom - Executive
Escape to our multi-level Lumbung style villa, a private sanctuary for up to four people. Enjoy a main bedroom with an ensuite bathroom, a second bathroom with a bath and rain shower, and breathtaking views from the large living and dining area on the upper level. The upper level also contains a smaller second bedroom. Features include air conditioning, a fully stocked mini bar, tea/coffee facilities, a safe, and complimentary toiletries. Immerse yourself in luxury and tranquility in our Lumbung style villa. Priced from IDR 4,425,000 for two persons
Asmara private pool villa:
Experience the pinnacle of luxury in our Asmara Villa. This exquisite retreat features a spacious ensuite, living and dining areas, all secluded behind high walls with garden views. Enjoy the ultimate romantic getaway with a private pool and a honeymoon villa ambiance. The villa is equipped with air conditioning, indoor and outdoor dining spaces, a fully stocked mini bar, tea/coffee facilities including Nespresso coffee machine, and complimentary toiletries. Relax in the deep copper bathtub for a truly indulgent experience. Priced from IDR 5,500,000 for two persons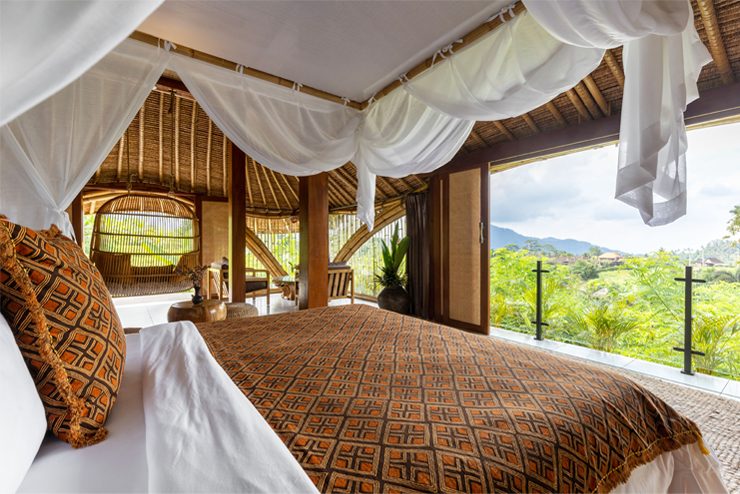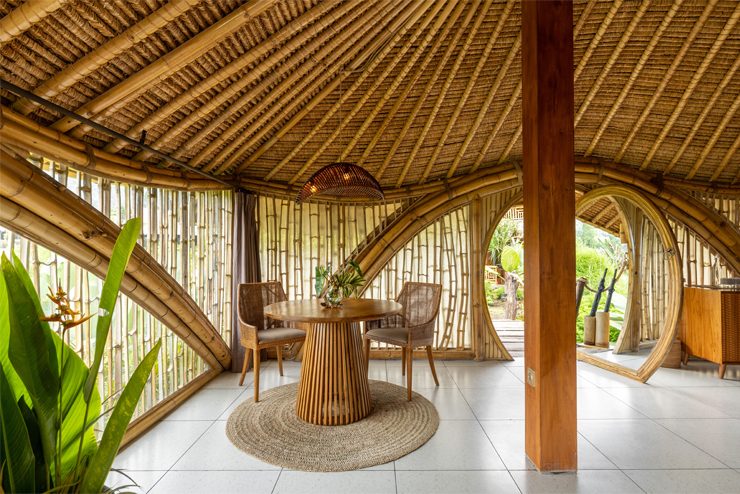 Rice Barn private pool villa:
Enjoy panoramic views from our private bamboo villa with a plunge pool. This unique retreat features separate dining and lounging spaces, and a luxurious spa-like bathroom on the lower floor. Relax in air-conditioned comfort, indulge in the fully stocked mini bar and tea/coffee facilities including a Nespresso coffee machine, and delight in complimentary toiletries. Experience pure luxury with a deep copper bathtub. Priced from IDR 5.500,000 for two persons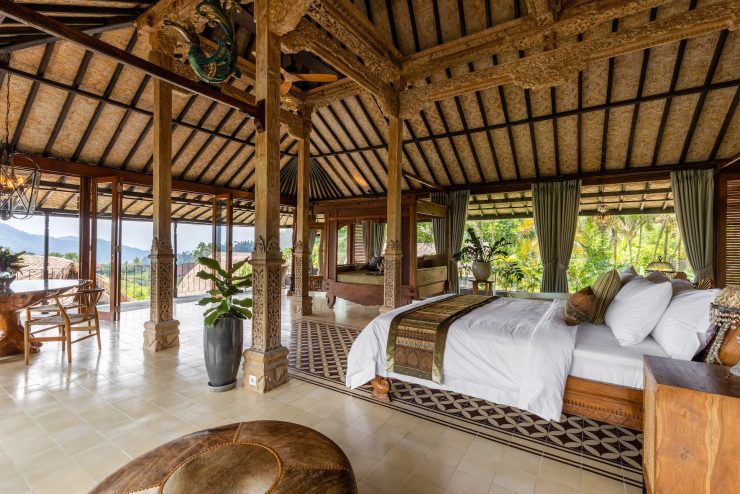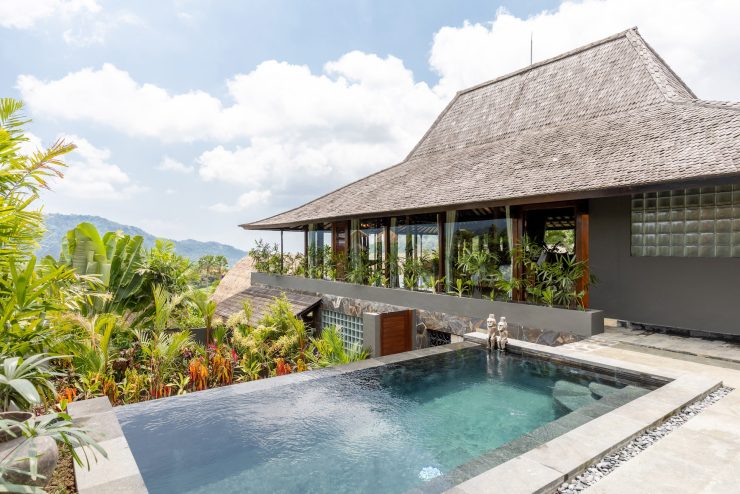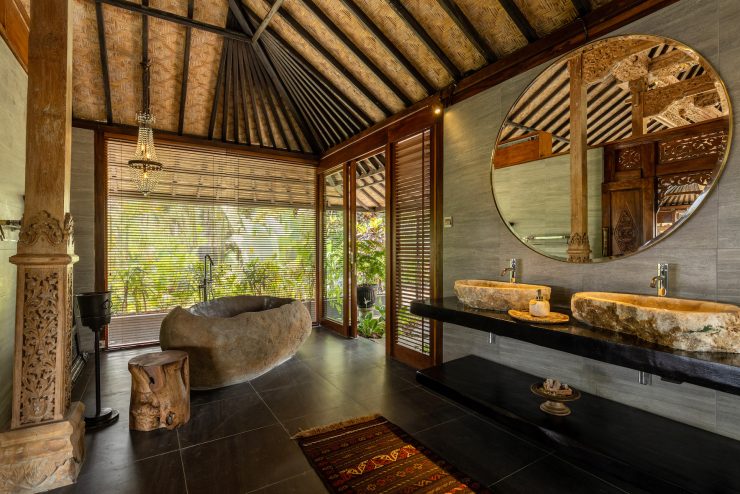 Joglo villa private pool villa:

Experience luxury and Javanese design in our spacious Joglo villa. This enchanting super private retreat features indoor and outdoor dining spaces, a private swimming pool, and a lavish ensuite. Enjoy the comforts of air conditioning, a fully stocked mini bar, tea/coffee facilities including a Nespresso coffee machine, and complimentary toiletries. Indulge in ultimate relaxation in the deep natural stone bathtub at Sidemen Hotel. Priced from IDR 5.500,000 for two persons
Batari villa private hot tub villa:
Experience the pinnacle of luxury in our Batari Villa. Perched at the highest point of our hotel grounds, this signature bamboo villa offers separate dining and lounging areas with panoramic views. Relax in the private hot tub in the luxurious bathroom. Enjoy air-conditioned comfort in the bed area and ceiling fans throughout the villa. Indulge in a fully stocked mini bar, tea/coffee facilities including a Nespresso coffee machine, and complimentary toiletries. Priced from IDR 5,500,000 for two persons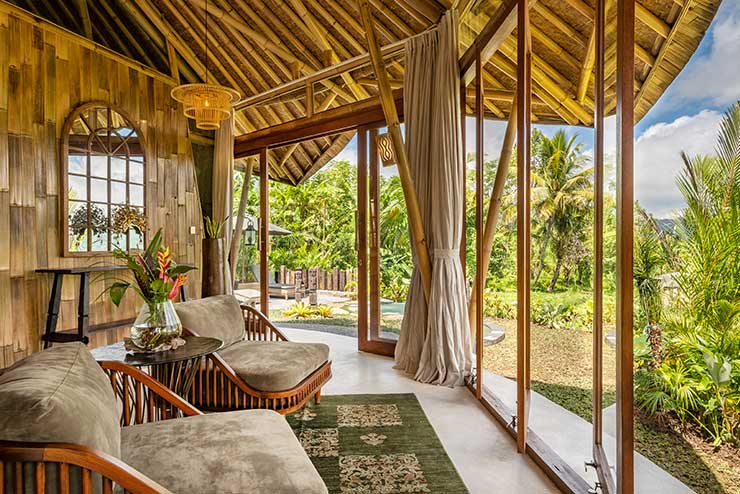 Samudra private pool villa:
Samudra – meaning "ocean view" is set at the furtherest part of our resort affording privacy from other guests and as the name suggests has views over the surrounding rice fields and out to the ocean. This extra large bamboo villa has perfect indoor outdoor flow to the plunge pool overlooking the rice terraces – you will feel fully immersed into the local nature. The bed area is air-conditioned with the rest of the villa being cooled with ceiling fans and surrounding valley breezes. Features – Air-conditioned bed, private brass bath tub, luxurious walk-in tiled shower, fully stocked mini bar, tea and coffee making facilities including a coffee pod machine along with complimentary toiletries at Sidemn Bali accommodation. Priced from IDR 5,500,000 for two persons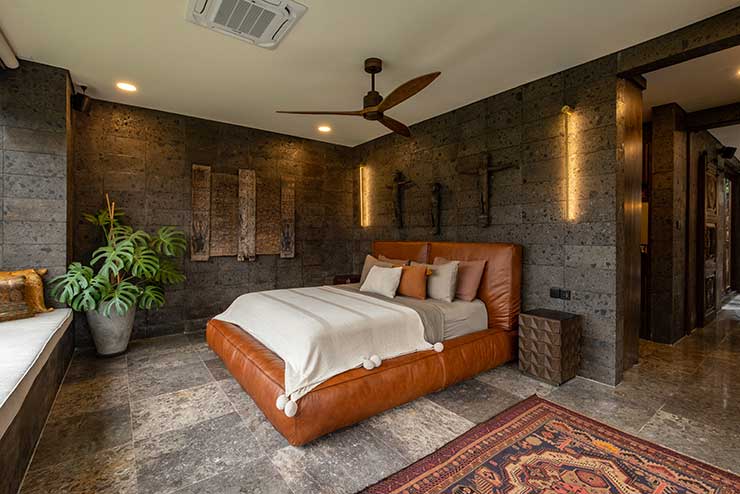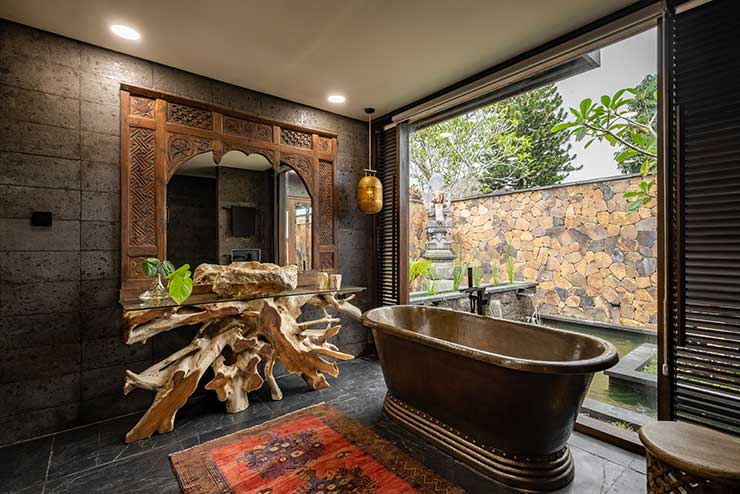 Sungai private pool and hot tub villa:
Experience ultimate luxury in our Sungai Villa signature honeymoon villa. A modern twist on traditional Indonesian design. With an open-plan layout, private pool, and hot tub, separate office, media room with Sonos music system this villa is perfect for special occasions and romantic getaways. Enjoy magnificent views of the rice terraces and hills from both indoor and outdoor living spaces. Features include air conditioning, fully stocked mini bar, Nespresso coffee machine, and a luxurious brass bathtub. Priced from IDR 7.500,000 for two persons