Discover the essence of tranquility at Ananda Spa, a body, mind, and soul spa, where ancient Balinese culture and the serenity of our surroundings converge. Inspired by the profound connection between mind, body, and soul, our spa treatments, along with natural skincare products, are meticulously crafted to nourish and rejuvenate every aspect of your being. Allow us to guide you on a transformative journey, where relaxation and revitalization intertwine, indulging your senses at every turn. Surrender to the therapeutic powers of our skilled therapists and embrace a sanctuary of pure bliss and harmony.
OPEN FOR BOTH RESORT GUESTS AND DAY VISITS​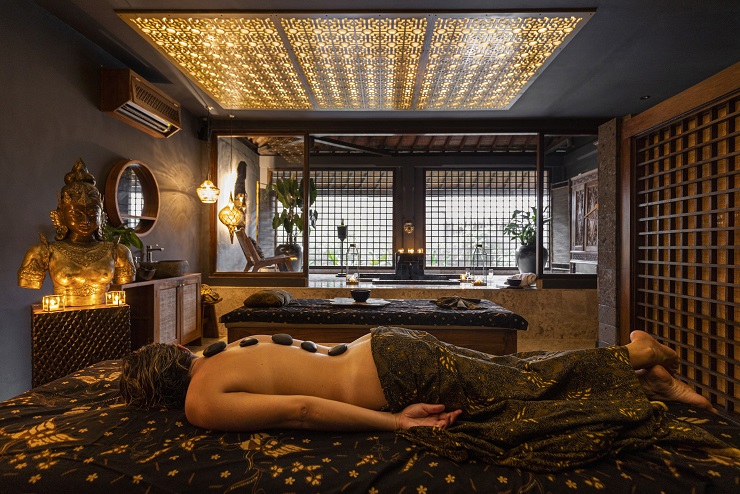 TRADITIONAL BALINESE TREATMENTS
Traditional balinese treatments that can be tailored specifically to your needs. Traditional Balinese Massage, Four hands of bliss, hot volcanic stone massage, hot bamboo massage, herbal massage, acupressure massage, reborn foot reflexology and shirodhara treatment.
All of these treatments are 90 minutes and include a 30 minute Balinese massage. Citrus and sea salt body scrub, irish coffee sugar scrub, fresh aloe vera body wrap, detoxifying boreh spice wrap. 
Chakra balancing, private guided yoga and meditation, passive yoga, crystal and sound healing. 
FACE, HAIR & NAIL TREATMENTS​
Rejuvenating facial, decadent manicure and pedicure, strengthening hair cream bath with olaplex. 
Verified
Excellent Excellent massage by Putri with a very good and special shirodara in an amazing calm atmosphere and setting
Verified
Relaxing Had a very relaxing Balinese massage Very quiet and relaxing atmosphere Would highly recommend Staff were very polite
Mrs Griffiths
October 29, 2023
Verified
And relax……. The most beautiful surroundings and luxurious spa. The perfect end to a perfect day relaxing at Samanvya. The staff were kind and courteous and nothing was too much trouble to make you comfortable and relaxed. If you get the opportunity I would definitely pay this amazing place a visit!
Verified
Balinese Massage We took the Balinese Massage. It was amazing, for me the best of all our massages in Bali (and we took 3 during our trip) The staff is really kind and friendly, 100% recommended!
Verified
Beat the Sun with a Soothing Aloe Body Wrap & Massage! We had the Aloe Vera Body Wrap and Balinese Massage package. Services were amazing!! Such a great way to spend a couple of hours at the hotel. Highly recommend!!
AudreySmtTravel
October 20, 2023
Verified
Un moment de détente absolu Nous sommes allés au spa en couple pour un massage à 4 mains, c'était tout simplement fabuleux. Le lieu est superbe et le massage excellent.
Verified
Ananda Spa: 4-Hand Massage Bliss! I had the most amazing 4-hand massage at Ananda Spa! The two therapists worked like magic, totally relaxing and refreshing. The vibe there is so chill, it really adds to the whole experience. If you're into top-notch spa treatments, Ananda is the spot to hit up. Seriously, can't recommend it enough!
Allison P
October 17, 2023
Verified
Best massage EVER! This was the best full body massage I've ever had! I booked the massage on arrival and was so grateful to find out they were able to book me and my husband at the same time for a couples massage! Loved it and would definitely recommend.
Verified
Amazing all around The Ananda Spa at Samanvaya is amazing. We had multiple treatments here during our stay. The foot massage was so nice and relaxing, especially after our many hikes in Tokyo the week before. I would highly recommend and wish I had even tried more things!
Verified
Excellent massage I had one of the best massages ever here. Very nice ambiance and very amazing massage. Thanks a lot, Sri!🙂